Elle Argentina July 2007


Para Ti Magazine Sep07


Elle Argentina December 07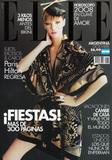 D-Mode Magazine Dec 07


Desiderata Ads
Buenos Aires Fashion Week SS08.09 Backstage
Catalogue #9. September 208
"Success is a one way ticket"
Clarin newspaper´s sunday magazine VIVA. October 2007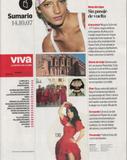 "I´m ready" says Milagros Schmoll. She speaks with a french accent. It´s noon and just ten minutes ago she finished walking for Lacoste in NY. Sha has almost no makeup, she´s dressed in a simple way -white fitted shirt and tight jeans- she starts walking down Bryant Park, in the heart of Manhattan. She says she only has ten minutes. In half an hour she´s expected at a photo shoot in the other side of the island.
Is everyday this way, no time for you an packed with activities?
Almost everyday, but today is a tough day. I got up at 7 am and I know i won´t finish until 11 pm.
Milagros is 18 years old, she´s 5,8 and 103 pounds. She´s the seventh of ten siblings with german and italian descent. She´s fascinated by Hong Kong, badly wants to spend a few days in Rome, wants to move to NY. She´s born and raised in Caballito
(a neighbourhood in Buenos Aires, 15 minutes away from downtown area- kokobombon)
(about being in Dolce & Gabbana ads)
"It was my dream"
and how did you get it?
Testino shoot me for Vogue so he recommended me for the campaign. But I had to cut off my hair...
and you did, I see.
I shave it all off. I used to have it till my waist line. That was five months ago, I still look in the mirror and feel weird.
what else would you sacrifice for work?
I´ve change my hair color a thousand times, I put vacations on hold... and if I have to pose for photos or walk the runway bare chested it´s ok. Everything is really artistic here.
The article explains how she was discovered, she was on her way to the movies when agency Pink´s owner saw her. She was 14, a week later she was doing a Levy´s campaign. A year and a half later she was on her way to Europe where she was chosen to be in Gaultier campaign-kokobombon.

Do you ever miss home?
I don´t get the blues, but sometimes after a show I have a strange feeling. What I really don´t like is to get sick, not even the flu... because that´s when I really need my loved ones, someone close to take care of me.
To what things did you get trouble adjusting?
Paris was tough at first because of the language... not being able to comunicate was awful; that´s why I began studying two hours a day, mondays through fridays. Now I´m ok. It´s different in NY because I speak fluent english and there are a lot of people who speaks spanish. That´s why hopefully by the end of the year I´ll be living in Manhattan.

Do you like it better than Paris?
I have more friends in NY. Beside they´re more open minded. It doesn´t matter where you´re from, in Paris they´re more nationalists. France it´s a good place to start. When the publishers know you, it´s best to move to NY and make new clients. Once you´re well known, it´s usual to live betwen the two cities.
Milagros likes to eat, sunbath, spend the summer in Cerdinia, tall men, email everyday with her former classmates, go out with her model friends (some are swedish, russians and italians) Whenever she can, she goes to the gym; horseback rides, buys perfumes and clothes. She´s always carrying a designer bag, those with logos an triple zeros figures (and in euros)
(I should point out that at the moment the euro it´s really high in Argentina, like 4,50 to 1. I think that´s the reason for this comment-kokobombon)
She says that she spends money but also saves because she knows that it´s a short span career and there are a lot of models going to the same casting calls.
There´s much talk about the russians and the brazilians, but what type of model is in?
Brazilians sweep away (the compitition)
Against what you feel you compite with?
I think that my strong feature is my personality. Really... nowadays you can only win at a casting call because of your attitude, because of the attitude towards the clients. There are a lot of pretty girls.
In your job, do people care that you are argentinian?
I always say where I´m from, and it´s ok with them. Everybody loves Argentina, they know about tango, the snow, the waterfalls, the country side and the food.
What is the hardest thing about working in Europe?
Living in planes. I can still handle it but I know it´s not forever. This year I visited three continents in just nine days: I went to Hong Kong, Monaco and LA in a sort of marathon for Chanel runway shows.
You started so young, what do you feel you´ve missed?
I don´t know what I missed because I never did it. I know what it took me to get here. I had to separate from my friends, my family, but I also feel like I gained a lot. I love what I do and I enjoy it.
Your younger sister, Felicitas-10 years old, she´s doing a kids clothes campaign in Argentina. Do you advise her to follow your steps?
If she likes it, sure. She can do great. Besides, in my family they´re all strong and enterprising.
Do you have a boyfriend, are you dating anyone?
I´m alone right now. I travel a lot and sometimes it´s hard to have a boyfriend. I don´even think about going out with an argentine. I don´t think the relantionship could handle so much distance.